Group Conditions
At the State Opera groups of at least 10 persons receive a 10% discount for performances in price categories C to G in ticket categories 1 to 5; group from 30 to 80 persons receive a 20% rebate. Groups of at least 25 persons also receive one free ticket for accompanying persons.
Group reservations for performances at the State Opera can usually be made without obligation up to eight weeks before the performance date. Up to this date, reductions or – subject to availability – extensions of the desired number of tickets are also possible. After the option deadlines, all ticket sales must be final.
Arrangements for Groups
If you wish to attend an opera or ballet with your travel group or customers, your associates or circle of friends, we have a special offer for you. Follow the exciting performances of the Hamburg State Opera from our premium parquet seats!
Your Arrangement
You and your group will receive exclusive access to the State Opera's foyer area 75 minutes before the performance. Personally attended by our staff, you can take your time to check your coats in the area reserved for you, study the programme book and use our "Patrons' Lounge" on the 4th Tier.
The culinary part of the evening, catered by our gastronomy service "Godi l'arte", begins with finger food and a high-quality selection of beverages. During the intermission, sweet treats and a glass of wine await you in the parquet foyer. Our "Patrons' Lounge" can be booked exclusively by groups of 40 persons or more.
Premium Parquet Seats
Right up close: Enjoy our premium seats in Rows 1 to 7 of the Parquet (seating area 1 or 2, minimum of 15 persons).

Price by performance-category (per person):
C: PG1 € 140 / PG2 € 130

D: PG1 € 150 / PG2 € 140

E: PG1 € 163 / PG2 € 150

F: PG1 € 173 / PG2 € 159

G: PG1 € 184 / PG2 € 169

H: PG1 € 192 / PG2 € 177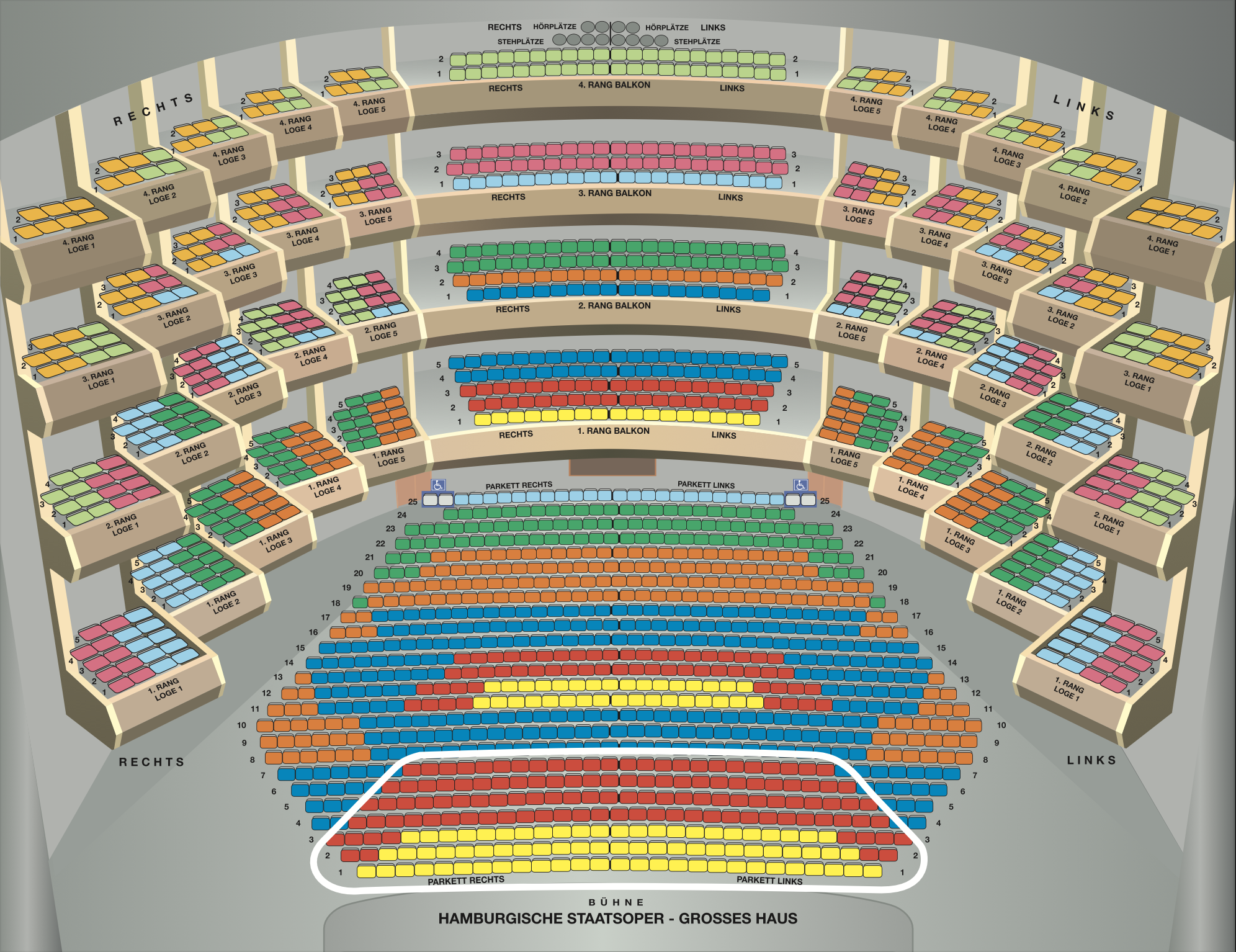 ---
Contact and Booking
Your Group Sales Team
Melanie Brell
Andrea Brennecke
Sybille Heinken
Mareike Nicholson
Tel. (040) 35 68 222
Fax (040) 35 68 610
E-Mail: groups@staatsoper-hamburg.de